Varsity Urban Adventure Concept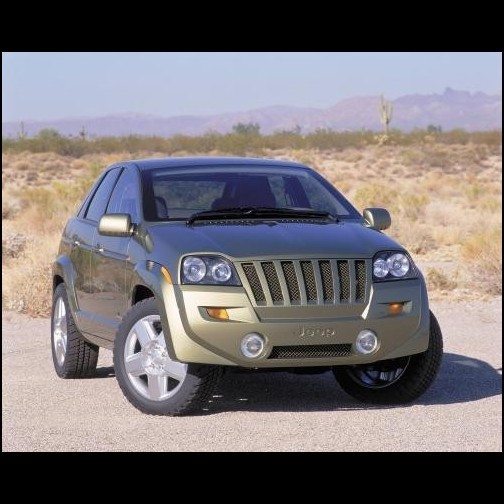 When you mention 'Jeep', the Wrangler image comes to mind right away. That's the traditional shape. There's also the Cherokee which is very much in the Jeep styling mould with trademark trapezoidal wheel openings, radical approach and departure angles, and plenty of ground clearance.
So what's this Jeep called a 'Varsity'? Is it a pirated product from China or something? How come it's not in the catalogues?
The Jeep Varsity is a concept model which Jeep designers conceived to invent a new vehicle category. The recipe is a combination of the versatility of a 5-door hatchback with a unique roofline and the Grand Cherokee's capability.
The Jeep Varsity is powered by a 3.5-litre,220 kW/300 bhp V-6 engine coupled to a 4-speed electronically-controlled automatic transmission and a shift-on-the-fly transfer case with full-time 4WD.
Custom independent front and rear suspension with a coil-over-shock set-up and huge 19-inch dameter wheels with P235/55R tires give sports sedan handling and Jeep claims that it can sprint to 60 mph (92 km/H) in 7.1 seconds and reach a top speed of 130 mph (210 km/h).
"The Varsity speaks right to the heart of the serious driving enthusiast," said Bill Chergosky, Product Designer at DaimlerChrysler's Pacifica Advanced Product Design Centre in California. "We designed this vehicle with adventurous people in mind. With its versatility, the Varsity could very well be a family vehicle, but its performance, capability and appearance push it into a new arena. It has this adventurous 'no strings attached' aura."
Added Chergosky: "With the Grand Cherokee as its inspiration for capability, the Varsity was developed as a car that is perfectly suited to environments where trucks are becoming ever more popular. SUV-style raised seating positions combined with robust bumpers, substantial wheel flares and side sill, a strong character line and high belt make this a heavy-duty car."
Creating a fresh, more vertical interpretation of the legendary and trademarked Jeep "face," the Varsity reflects design cues from both Grand Cherokee and Wrangler. The Wrangler's influence is also noticeable in the concept's profile, with the A-pillar continuing to the Grand Cherokee-style trapezoidal wheel flare.
Together with the vehicle's athletic stance, the rear design shows off the Varsity's tailored sporty personality. Impressive centrally-mounted chrome double exhaust pipes, round lamp designs and the oversized brand name on the decklid spell performance. Chiseled lines in the bumper, decklid and lamp surrounds make for a powerful design statement which also generates an all-new rear "face" for a Jeep vehicle.
The interior mimics Varsity's exterior design with substantial shapes, strong lines and a backbone-style centre console running through the vehicle. The symmetrical instrument panel incorporates large round gauges with tipped-out angular surfaces and yellow-green glowing backlights. Executed in heavy-duty materials, the interior suggests a rugged scuba-diving or mountaineering readiness.
Added Chergosky: "The instruments, meters and other details appear to be more than just that. The door handle could be rock climbing equipment and the vehicle compass and attitude sensor would fit nicely in a survival kit! The 2WD and 4WD drive modes are selected by a solid metal dial."
Big green stitches adorn the leather steering wheel and seats. Adding sophistication, the interior is executed in warm celery- and olive-based colors with inviting textures.
The center stack interlocks with the backbone console and incorporates vertical design elements in harmony with the Varsity's front and rear exterior appearance. Black rubber inlays in the satin aluminium surfaces and raised aluminium strips in the cargo area add to the protective atmosphere in the interior.
Concluded Chergosky: "The Jeep Varsity urban adventure concept blurs the line between boulevard and boulder performance."