24 Years of Improving Drivers' Skills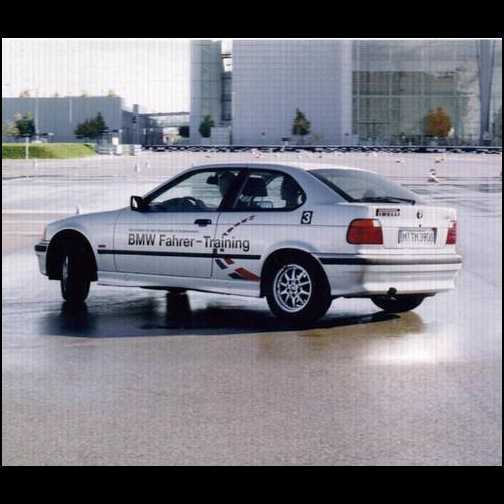 It is well known that no matter how safe a car is made, the 'nut behind the steering wheel' is still the crucial factor. In a perfect world, all drivers would drive sensibly and safely and we'd have no accidents. But our world is not perfect and the thousands of new drivers each year do not necessarily possess the skills to drive safely. Not all are reckless (only a minority) but they could do with some form of training beyond what they learnt in driving school.
In BMW's view, having a driver's licence means a person is qualified to drive a car in a basic sense, ie able to cope with running it under normal conditions. Even with modern technology like ABS, lack of real experience is the major problem for new drivers and learning through real-life experiences is risky, to say the least.
'TOP GUN' CONCEPT
Thus what is needed something like the 'Top Gun' course which the US Navy puts its fighter pilots through. Conceived during the Vietnam War, the course was aimed at providing pilots with realistic dogfight experience in safe conditions so that they would react better in real air-to-air combat. They had to experience what it's like to be pursued and how to get out of a spin in the heat of a dogfight.
The same principle applies in BMW's Driver Training. New drivers get a chance to understand and gain experience of the dangerous situations they would encounter in daily driving – in a safe environment. Through such training, a skid on a slippery road in the rain could be little more than a moment of alarm and quick correction, rather than causing panic and violent movements (or freezing up) that would put the car in a ditch.
The participants can also experience ABS and traction control quite vividly, something which they may not have a chance to do on public roads as these devices are supposed to function 'transparently'. Obviously, this is to BMW's benefit as it highlights the safety and balanced dynamics of their cars.
HOW IT BEGAN
The BMW Driver Training program's initial objective was 'towards promoting the skills and abilities of the driver within the man-machine system'. It is not and has never been meant to train people to be racing drivers, although the program evolved over the years to include high-performance driving.
The initiative to start the program began in 1974 with Rauno Aaltonen, who inspired the term "Flying Finns" with his spectacular driving in rallies, and Borries von Breitenbuch, the former sport secretary of a German auto club. These two men organised driving courses which caught the attention of BMW's then-managing director who felt that such an activity went well with the products sold by the company.
The decision to start regular MW Driver Training was made in February 1976 and the brief to Aaltonen and Breitenbuch was to hold 15 – 20 courses annually. From the beginning, one of the key features was the provision of BMW cars for the participants. This was to ensure that everyone learnt from the cars with identical dynamics and performance, and it also relieved participants of concern wear and tear on their own cars! However, participants can still use their own cars if they wish, saving a bit of money since BMW does factor in a small charge for the loan of their cars.
EVOLUTION OF THE COURSE
While the general curriculum has been maintained over the years, its approach has been modified. In the early years, there was even strenuous fitness training by a sports instructor, presentations on "Stress and Motoring" and even a short repair course! But the core principles remain and start with theoretical instruction, followed by direct application of knowledge acquired in simulated 'borderline' situations (extreme situations that could occur in daily driving).
The first course was for the Munich police which included members of GSG 9 (the anti-terrorist section). It was held over two days at an airport outside Munich in March 1977. One of the reasons why the Munich police were the first group was due to the need to upgrade their driving skills in view of many new challenges they faced. They needed special driving skills to help them in dangerous situations, especially when dealing with terrorists. These skills have also been passed on to chauffeurs in special courses.
In April the same year, the first 'civilian' participants went through BMW Driver Training. Before long, the program spread beyond German borders as instructors went to other countries to show BMW importers and distributors what they were doing. For example, in 1985, a group led by Aaltonen came to Malaysia and ran a day-long course for owners here.
Its success has led to the establishment of similar programs in other countries, with facilities built in Canada, Japan and Australia for the purpose. The facilities at the Sepang International Circuit and the Pasir Gudang Circuit (for Singaporeans) join the list this year.
DIFFERENT TYPES OF COURSES
In the first half of BMW Driver Training's history, there was only one type of course. But as requirements began to vary, the program adopted a multi-level training scheme. This made it more attractive to drivers of differing levels as those with more experience could skip the basics.
The 'entry-level' phase comprises half-day long Compact Training Sessions which teach fundamental abilities to young and new drivers. This is supplemented by Ongoing Development Training which offers exercises at speeds typical of urban driving conditions. A more intensive course is also available and participants experience higher open-road speeds and learn to cope with emergencies at such speeds.
Those with high-performance cars like the M3, M5 or Z3 can opt for Perfection Training, which is more sophisticated and done at higher speeds on race tracks. Here too, BMW offers its high-performance models for use (at extra cost).
Besides specially-tailored courses for specific groups, there is also a course which deals with winter driving. The slippery conditions require special skills and these can only be understood and learnt through practice in actual conditions. And with the new X5, there are now also off-road courses which are held in Morocco twice a year.
Incidentally, there is similar advanced training for two-wheelers since BMW also makes motorcycles. In these course, participants learn how to control their machines and what to do when they are forced off the road in an emergency.
OWN TRAINING CENTRE
Until this year, most courses were done on non-BMW property. Due to the nature of the activity, a large open space is necessary and while BMW's test track could be used, it was obviously not a facility that could be used full-time due to other internal activities.
So the program was moved around over the years. In some of the places, the development of residential areas led to the presence of such a training site being deemed unacceptable because of noise. After long discussions, the government of Upper Bavaria agreed to "temporary third-party use of air traffic areas" at the then-new Munich airport, allowing BMW to establish a permanent and purpose-built facility in 1997.
The state-of-the-art Driver Training centre has a training area that is 310 metres long and 190 metres wide. Most of its surface can be drenched with water (heated when needed) from 114 sprinklers. The sprinklers are connected by an underground network of pipes which uses recycled water. There is also a ultra-slippery section where friction is so low that it is like driving on ice.
THE INSTRUCTORS
Some 8,000 people enrol for BMW Driver Training annually (the number was around 1,000 a year in the beginning) and places have to be booked well in advance. Other than a small core group, most are not 50-plus instructors are not BMW employees and do not receive a monthly salary for their work. They receive allowances and have travelling expenses covered by BMW. Their motivation comes from a strong desire to help young drivers develop important skills to drive safely.
In fact, more than anything else, the focus of BMW Driver Training is on younger drivers. Statistics show that young drivers (18 – 25 years old) who have just acquired their licence have an accident rate 2.5 times higher than the average figure for the whole population of Germany. So the faster they can master the vital skills, the less at risk they will be.
According to a BMW source who declined to reveal the amount of funding that goes into the program, the fees collected are sufficient to offset annual operating expenses. The whole program is under the wing of BMW M GmbH which is the specialist subsidiary within the BMW Group that develops the 'M' cars.