PANASONIC TO INTRODUCE CAR BATTERIES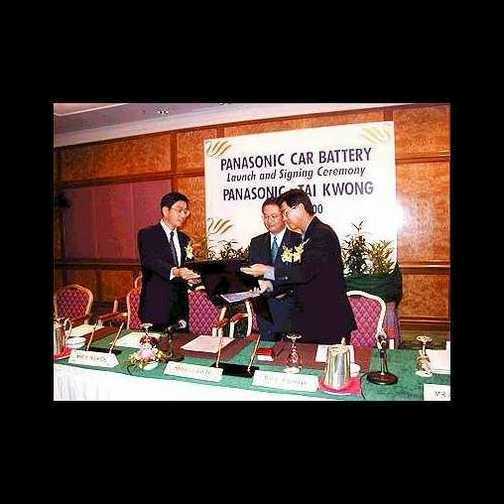 Surveys have revealed that at least 20% of Malaysian consumers have a preference for imported products, even if they cost more than locally-made products. This finding has inspired Panasonic Industrial Co (M) Sdn Bhd (PICM) to introduce its range of Panasonic batteries for automobiles in the local market with the aim of selling 100,000 batteries annually by the end of 2001. The Panasonic batteries will be distributed by Tai Kwong Yokohama Bhd (TKYB), the leading battery manufacturer in Malaysia.
Speaking at a press conference relating to the development, TKYB Managing Director Y.K. Chow said that the addition of Panasonic batteries would broaden the company's offering to consumers. He did not see the imported batteries affecting sales of the company's own batteries which have been available for the past 30 years under the 'Yokohama' brand.
"There are many customers who prefer imported batteries so we want to also supply their requirements. Besides, there is a difference of about 25% in the prices of Panasonic batteries compared to the equivalent Malaysian-made ones," he said.
The Panasonic batteries will be supplied by Panasonic's factory in Thailand, Matsushita Battery Thailand (MBT), which has been in operation since 1997. This factory supplies mainly to the Thai market with less than half of its output being exported presently.
According to Y. Yokoe, the Managing Director of MBT, exports to the ASEAN region have so far been low but in view of the coming of AFTA – the ASEAN Free Trade Area – in 2003, increased efforts are being made to export in order to survive when more competition starts.
"There are already many battery makers in Thailand so MBT is now looking for more markets to take its output in future," said Mr Yokoe. "We actually thought about selling in Malaysia as far back as 10 years ago but could not find a local distributor with a suitably large network."
He revealed that PICM had recommended TKYB because it was already supplying non-automotive battery products to TKYB. "Furthermore, with their market leadership and over 30 years of experience in the business, we were confident that they would be the ideal distributor for us," he added.
Indeed, TKYB's distributor network is huge, with 6,761 dealers nationwide at present. "The car battery, being a 'breakdown item', is needed urgently by motorists when they have a failed battery. So it is important for TKYB to have dealers at every corner of the country and we have spent the past 33 years building up such a comprehensive network," explained Mr Chow.
He said that demand by the replacement market in Malaysia is around 2.5 million batteries a year, of which TKYB has a 30% share. Some 65% of all new locally-assembled cars, including Proton, also come with its batteries as original equipment. Additionally, about 24% of its production is exported to 36 countries, including Britain.
"Now that we distributing Panasonic batteries, we are aiming to capture a 10% share of the imported battery market by the end of this year," said Mr Chow.
With increasing concern for the environment, TKYB has also built a RM10 million battery recycling plant in Ipoh, Perak. This is the only battery- recycling plant in the country and handles 400 – 500 tons of used batteries a month. The batteries are collected by TKYB from throughout the country.
The latest range of Panasonic batteries are claimed to be 120% more powerful and durable than before. This improvement is due to technological features such as thicker plates, a new process of making the plates, the use of organic separators (instead of paper), new pole design, and new vent plugs. Retail prices will range from RM184 to RM559.