PAY LESS AND GET MORE!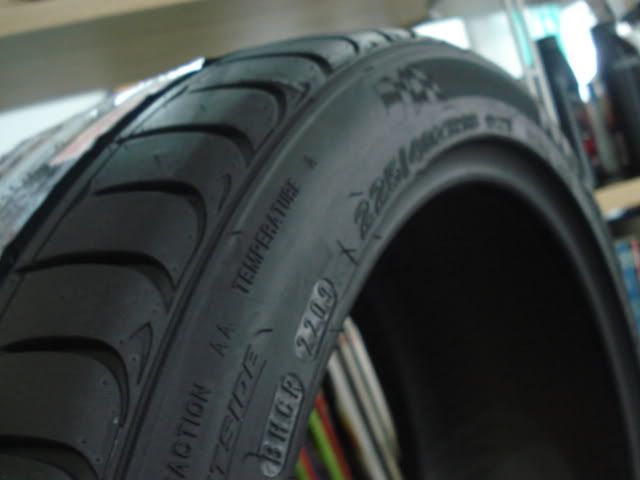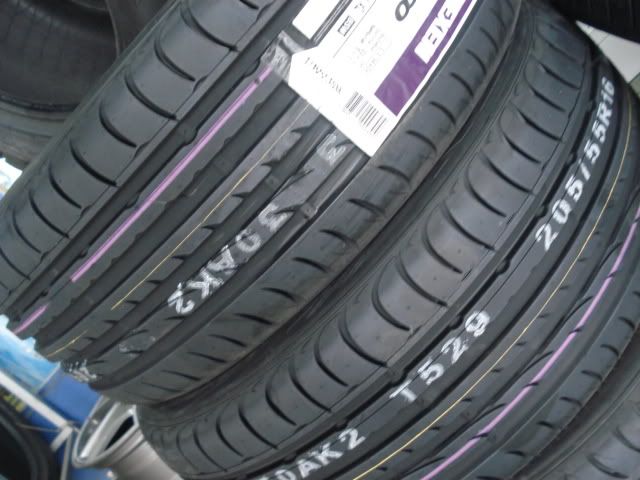 CALL US AT 012 2020817 (LEON)/ 03 5636 0917
225/40R18 NEXEN N8000 call for price (SOLD OUT)
215/45R17 NEXEN N8000 call for price
205/55R16 NEXEN N8000 call for price
205/45R16 NEXEN N8000
OTHER SIZES N8000 SIZES ARE:
215/35R18
255/35R18
235/35R18
245/35R19
225/35R20
245/35R20
255/35R20
205/40R17
235/40R17
235/40R18
245/40R18 SOLD OUT
225/45R17
235/45R17
245/45R17
225/50R17
PLS CALL 012 2020817 (LEON) FOR BEST PRICE
SOME REVIEW ABOUT N8000:
Nexen N8000 Review:
I mounted the 235/45/17 tires on stock bbs 17x8 wheels. These tires rubbed even less than the 245/45/17 size, but I believe my car is too low for optimal tire fitment and will remedy this situation. I broke these tires in by driving again an easy 100 miles on the freeway, and then on the way to the Buttonwillow track, which totaled to 240 break-in miles.
The first thing I noticed was the unique tread design. They reminded me of my Bridgestone re070s with the grooves, yet had a much firmer sidewall than the n3000s. I also noticed that while they rode slightly harsher than the n3000s, they were still very quiet and comfortable on the freeway, even on bad road.
Once I got to Buttonwillow, I used the same pressure settings I used with the 245/45/17 n3000s. I found that my tires were rolling over on many of the consecutive "S" turns. I was not pushing the car on the warm up session, but realized quickly that my tire pressures were way too high. I also noticed that the tires got to operating temperature fairly quickly, but would not overheat quickly. This makes them great for both auto-x and road racing events. I consulted other Subaru drivers who were running similar sized tires. I tried something I normally don't, and dropped my pressure to 35 psi all the way around. Normally I increase front pressure more to minimize the tire rolling over, but I saw faster Subarus using this method. I noticed a huge increase in grip, and only a slight issue that occurred when braking, as my tires would hop instead of locking up when I would try to brake on the threshold of engaging ABS. So I dropped the pressure to 30 (hot) on the front and rear.
On my third session the car truly shined. I was able to maintain a lot of grip in the consecutive "S" turns, and even on the wide sweeper which I normally enter at the top of fourth gear, the car felt absolutely stable. Even hard braking did not upset the tires now. I honestly feel that these tires were within 10% of the re01rs or Dunlop z1 star specs. I even had a comment by a fellow Subaru driver that these tires were "way stickier than the Dunlop SP Sport 600" that come on the Stock 2008+ Subaru STis. The major improvement over the N3000s was the fact that the car just had more grip when entering a turn, through the turn, and never got so greasy that I would have go to the pit lane to cool the tires.
I packed up my car and journeyed an additional 249 miles (right off the track), to Berkeley, California. I upped the pressure to 35 psi for the street, and the car felt great. With this medium setting for sidewall stiffness, I get the response I want, but not the loud noise or rougher ride.
A few weeks later I went on a canyon drive with a much faster Subaru STi. I drove him in my car, and he currently is riding on 245/40/17 Dunlop Z1 Star Specs. He took a turn driving my car, and was very happy, as he hadn't really heard of Nexen tires. He was shocked to see how much grip they had. He was only once able to get the car to lose traction around a turn for the 45 minutes we were on the road.
I even got to drive these tires in the wet, and they performed as I had expected with the tire tread designed, great. I did not drive aggressively, but generally when driving in the rain on my re070s, I sometimes lock up when I brake on the street, and hydroplane if I go full throttle in third or second gear and it is damp on the highway. I would have to reserve my performance driving until I could get to an auto-x event or track day in the rain.
Overall, I think these tires would be great for street/canyon driving, and could perform at the track.
**************************************************************
INTRODUCTION OF NEXEN TIRES
Originally established in 1942 as Heung-A Tire, Nexen Tire has over 60 years of tradition as a respected leader in the tire industry. Acknowledged as Korea's first tire company, we first began car tire production in 1956.
Over 30 years later, in 1985, the company was expanded through the construction of a radial tire factory in Yangsan, Korea. Through an alliance six years later with a Japanese company, OHTSU Tire & Rubber, we furthered our technological know-how and manufacturing capabilities.
In an effort to reflect our dedication to quality and continued leadership, we changed the company name in 2000 from Woosung Tire to Nexen Tire Corporation. The name Nexen is a combination of two future-oriented words; next and century. That same year also saw Nexen Tire listed on the KOSPI 200 Index future market.
Nexen Tire practices constant improvement and restructuring to sustain growth and anticipate market demand. For example, we closed our BIAS tire plant in 2003 due to low revenues and invested instead in the opening and operation of a second manufacturing plant. By 2004, we were introducing Ultra High Performance tires and developing High Performance SUV tires.
In 2005, Nexen Tire was awarded a patent for the technology to manufacture rubber/stratified silicate nano-composite tires. By 2006, we had completed development on the new UHP and Winter LTR/SUV pattern. To accommodate increased global demand for the Nexen brand, we opened yet another tire manufacturing plant in Qingdao, China in 2007.
Due to our commitment to quality products, friendly service and exceptional value, Nexen's domestic market share has increased from 8% to 20%, with annual sales now exceeding $600 million dollars. We employ over 2,000 employees, each dedicated to building a superior and safe product. Nexen Tire currently exports to 120 countries. We are truly proud of our products and stand confidently behind each and every tire.